The first international marathon event in Indonesia to obtain World Label "Bronze Label"from World Athletics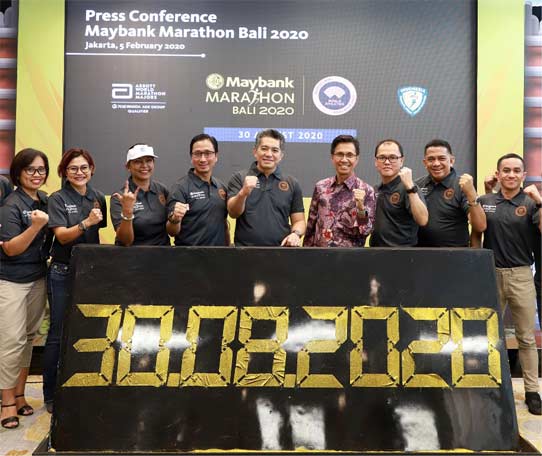 Jakarta, 5 February 2020 – PT Bank Maybank Indonesia Tbk (Maybank Indonesia) today announced the date for its ninth Maybank Marathon event in Bali, an annual international road race event to be held on August 30, 2020. Registration will start on February 25, 2020 at 12:00 WIB on www.balimarathon.com.  Categories of competition are marathon(42.195 km), half-marathon(21.0975 km), 10K and kid dash.
After consistently making series of improvements and enhancements, this year Maybank Marathon has officially obtained a World Label"Bronze Label" Road Race from World Athletics (previously, the International Association of Athletics Federations or IAAF) and become the first marathon in Indonesia to have achieved this prestigious label.
"Bronze Label" can only be awarded to marathon event that has fulfilled all requirements and verified by the World Athletics. These requirements amongst other consist of distance and route that has been certified by an official course measurerfrom the Association of International Marathons and Distance Races (AIMS), road closure, timing system, international elite runners, medical, media coverage, technical delegate to perform the assessment, comfort and safety for runners and compliance to all marathon regulations as laid out by the World Athletics.
Taswin Zakaria, President Director of Maybank Indonesia says, "Our achievement in obtaining 'Bronze Label' from the World Athletics is not only affirming that Maybank Marathon is now recognized as an international standard, but also placing Indonesia as a country that has international marathon event."
Along with the World Athletics "Bronze Label", Maybank Marathon is now included as part of the Abbott World Marathon Majors (WMM) Wanda Age Group World Rankings marathons, giving Marathon Maybank runners to earn ranks/points according to Abbott WMM's criteria.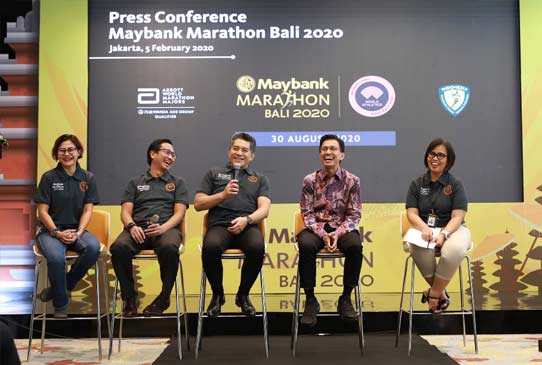 To assist runners' preparation towards the marathon event, Maybank Indonesia will conduct series of running activities Road to Maybank Marathon in the next six months. In partnership with medical experts, nutritionists and running coaches, runners are welcomed attend marathon preparation trainings and education classes prior to the Race Day. These classes include running clinics and Sunday Morning Runs. Runners may also attend classes to get familiar with and manage to finish race before cut-off time (COT), these COTs will be implemented on every category i.e. 10K with 2 hour COT, half marathon with 3.5 hour COT and marathon with 7 hour COT.
"With the Bronze Label, we are committed to  continuously improve our race quality in terms of race comfort and safety, in particular improvements over race infrastructure,  quality of medical need in the field, and implementation of 'You Register, You Run' to ensure that runners are those who are registered within our database," said Taswin.
REGISTRATION
As an appreciation to loyal customers who are interested to participate in this event, Maybank Indonesia offers special bundling programs and discounts to Maybank Credit Card holders. Registration for Public Slots opens February 25, 2020 starting with Early Bird price with a limited number of running slots.
The rate for Public Slot is as follows:
Period
Customer
Type
Marathon
Half Marathon
10K
WNI
WNA
WNI
WNA
WNI
WNA
Early Bird
Public
720.000
1.200.000
570.000
800.000
420.000
640.000
Normal
Public
900.000
1.500.000
750.000
1.000.000
600.000
800.000
Harga khusus bagi pemegang kartu kredit Maybank sbb:
Runner Type
Harga
Early Bird
Normal
WNI
Discount 20%
-
WNA
Maybank Credit Cards
30%
Terms & Conditions:
Credit Card discount only applies for Maybank Credit Card holders
Discount only applies for the first purchase, subsequent purchases will be applied with normal rates.
Since its inaugural event, Maybank Marathon consistently conducted its sustainable social responsible program for the Balinese communities, specifically in Gianyar and Klungkung. A series of economic empowerment programs and educational supports will be carried out again by Maybank Indonesia for those local communities.
Maybank Marathon has now become as one of the main choice for sport tourism events. This running race event is not just a competition field for runners, but also relevant for the entire family members to enjoy holidays in Bali. Maybank Marathon is an international athletic event with a touch of Balinese Culture, its natural beauty and hospitality of the people. Since 2013, Maybank Marathon has established itself as the first marathon in Indonesia and has consistently listed in the official race directory of Boston Marathon. Maybank Marathon has also received various recognitions, one among eleven,
"Remarkable races in the world that one must participate before you die"
by The Active, one of
"The 52 Best Races on Earth 2016"
by Runnersworld,
Best Marathon 2016,
and
the Most Popular Sport Event 2018
by the Venue magazine.
Editor's Note
Maybank Indonesia
Maybank Indonesia is one of the largest banks in Indonesia that has a regional or international network of the Maybank Group. Maybank Indonesia provides a comprehensive range of products and services for individual and corporate customers through Community Financial Services (Retail Banking and Non-Retail Banking) and Global Banking, as well as automotive financing through subsidiaries, WOM Finance for two-wheeled vehicles and Maybank Finance for four-wheeled vehicles. Maybank Indonesia also continues to develop Digital Banking service and capacity through Mobile Banking, Internet Banking, Maybank M2U (internet banking based mobile banking) and various other channels.
As of September 30, 2019, Maybank Indonesia has 380 branches including Syariah branches spread across Indonesia as well as one overseas branches (Mumbai, India), 21 Mobile Cash Cars and 1,601 ATMs including CDM (Cash Deposit Machine) connected with over 20,000 ATMs incorporated in ATM PRIMA, ATM BERSAMA, ALTO, CIRRUS, and connected to 3,500 Maybank ATMs in Singapore, Malaysia and Brunei. Until the end of September 2019, Maybank Indonesia manages customer deposits amounting to Rp115.6 trillion and has total assets valued at Rp177.9 trillion.
For further information, contact:
Maybank Indonesia
Esti Nugraheni, Head, Corporate & Brand Communications,
Telp.: +6221 2922-8888